Hello, everyone! I'm taking a quick break from NaNoWriMo to share another bookish and writer-ish collaborative I've been super pumped about featuring my friend May from Forever and Everly! If you're struggling with writing romance scenes for your novel, you've come to the right place. The two of us are super avid readers and we got thinking: how are romances in YA novels crafted? What are some of the typical stereotypes stumbled upon that need to be broke, and what kinds of aspects define a good, healthy relationship? After a month brainstorming, we each decided to take three points and discuss them. If you want to see the first part,
head over to May's blog and check it out!
I will warn there are some slight spoilers from several varying novels.
Without further ado.
If all males came out dark and brooding with hawk-like eyes (like Batman!) and all females came out plain yet don't think they're beautiful until a guy comes up into their life, then the numerous representation we have of these types of characters in YA novels would hold perfect. Here's the problem: not everyone is like this.
People hone different personalities.
Almost none of my guy friends classify as the brooding type— the sullen types who are hard to crack open are rare. The guy friends in my life consist of runners winning state championships who talk about cars and weird theories, thespians who also rock at debate with an obsession over science YouTube videos, or ROTC members pondering excessively about the importance of the Elvish language in Lord of the Rings while walking their dog. More than likely, this display of different personalities may be the case for the readers out there. One of my favorite characters from a recent book I read, The Upside of Unrequited by Becky Albertalli, is Reid Weirtham, who is Tolkien-crazed with an obsession over Easter mini eggs and plays a grocery game involving early 2000s music, like, "The one with the girl playing the piano singing about if she could fall into the sky." But there is no hint of Batman likeness in him.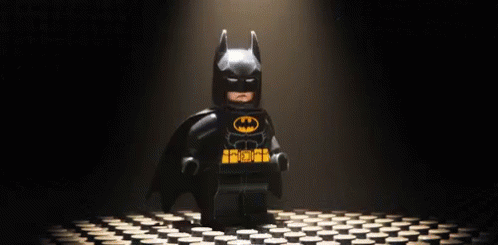 Sorry, Reid.
The same goes with the girls. Some of us write online but are reserved meeting other people, are pretty good with weaponry, or run with little care in the world. This is a bit off-tangent, but it irks me so much to read YA books where girls don't consider they're beautiful until a guy tells her this. I understand in romantic relationships the two individuals help bring out the best in each other and love one another despite some faults. It's okay to tell someone they're beautiful. What's NOT okay is the girl hanging on the perception to be beautiful, they need to have a boyfriend and base their perception solely on that purpose. It sometimes sends out a negative message. Self-love is an important and powerful thing to hone, and I admire honestly admire female characters who can understand this.
"Well, of course you don't need [a boyfriend]," Nadine says. "But it's okay to want one."

— The Upside of Unrequited
There are many ways romance can spark between two characters with different personalities-- like all relationships, a common ground needs establishment and from there, a basis of a relationship grows. That's all there is for it to start. It gets tedious to read about the same types of characters falling in love. For now, push those default cookie-cutters aside. Break the stereotypes of these pairings. Take out two new ones, and watch them grow.
Fourth grade year. My mind focused on the sketch I drew with glitter pens and tuned out the constant whining of staying inside for recess due to the cold weather. A Twilight bottle slammed in front of me, followed by a cold stare. The moment came to answer the question forced upon everyone: Team Edward or Team Jacob? "Team Jacob," I squeaked in reply. Even at the height of the saga's popularity, everyone at the age of nine saw the first two movies. Everyone knew Jacob was better. Who liked sparkly vampires, anyway?
Ah, love triangles, another common trope springing with buoyancy on the page of many YA novels.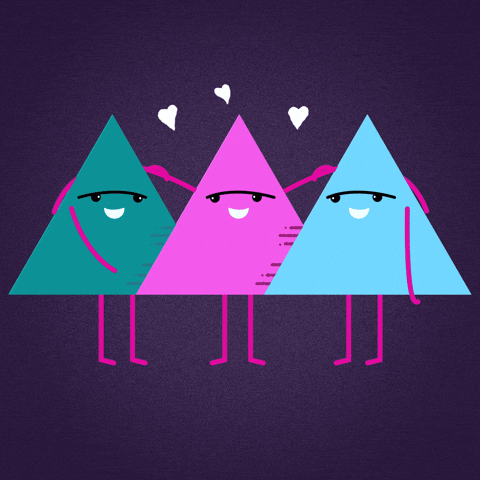 No, not THAT kind of love triangle. Although I do love the pun.
They're overdone. The source of problems readers have with the trope their predictability, appearing from one novel to the next. I applaud the Young Adult community lately because they've slowly weaned away and branched out from the formulaic. The same character archetypes accompany the triangle (again, stressing the importance of stepping away from stereotypes) ninety percent of the time. It's dull.
That doesn't mean love triangles should become archaic. One of the things I applaud about well-crafted triangles is they push the main plot along (even if they're a subplot) without taking full siege and depict how love isn't always straightforward. People have crushes. They break up, make up, have fights, and get through the mess of it all.
Unless they're well-written and advance the plot, it's best to keep away.
Don't get me wrong, The Infernal Devices isn't a bad series and it's one of my favorites out of Cassandra Clare's books, but there's a story accompanying this that made it awkward...
The fall of 2013. I had just been inducted to the ranks of teenage old and there I laid, stomach first in bed, reading The Infernal Devices. Why reading about shadow hunters and other paranormal creatures set in the twentieth century at ten in the evening was a good idea sat beyond me. Here a scene came, with Jem and Tessa lip locked and kneeling on the floor. My fingers flipped fast to the next page to get away from the awkwardness, and move forward a week later, with Allegiant newly released. Christina, in the novel, makes a remark towards Tris and Four about "addition" or "multiplication." The innuendo flew over my head until I reread the book. I hadn't taken eighth grade health yet, but I tied all the pieces together. It made sense.
Intimacy sprouts across romance plots in books-- intertwined fingers, sweet kisses, and engaging in other things. Yes, teenagers engage in these things; to argue otherwise is to stand blind against what happens out in the real world.
Kissing may be the epitome of YA novels, but sometimes, there are more powerful ways of conveying romance besides the conventional physical actions
(and no, I am NOT talking about the nasty). Adding in the slobbery but pertinent details of how a person latches onto one another and glorifying the situation? There is a fine line between sweetness and grotesque within novel details that needs addressing.
Physical actions don't have to majorly dictate a couple's love for one another.
There are more powerful ways of expressing love.
Maybe there's a character who puts down their barriers when a other character needs support, or maybe one person is panicking over an event and another character has a comedic way to help de-stress.
An example coming to mind is
The Princess Bride
. In the beginning, Wesley (known as Farm Boy) replies to Buttercup's demands by replying, "As you wish." The repeated phrase is revealed as his way of saying, "I love you," introducing their relationship.
A bit off topic: FINALLY watching this movie tomorrow while doing chores! I'm so excited.
Another example is "Something Old, Something New," in the Lunar Chronicles anthology,
Stars Above
. Two characters sneak out of a wedding and look up to the stars. Kai remarks he frequently looks at them and wishes Cinder, his significant other, to be there at his side all those times. Even though she replies to him flippantly, she says she does the exact same thing. Isn't that fangirl worthy?
Point being:
if writing a romance plot, small moments, such as the aforementioned, should outweigh (in frequency) the intimacy, even when the couple gets together
.
Go for a slow burn
. If this balance is portrayed well, then even brief kissing scenes feel well deserved, more satisfying, and powerful then hammering intimacy in every chapter.
Thank you so much, May, for doing this collaborative with me! I had tons of fun and I'd love to do it again with that one other idea we had in mind.
Again, if you want to read her post, read her post here
!
What are some important aspects of YA romance you think are important but we didn't mention? What romance tropes urk you? Do you agree with these points (or disagree slightly) with some of these points? Name some noteworthy YA ships that you think are a great portrayal of well-written couples!