This is a notebook which came in an even prettier wrapping box like WHAAAAT.
Hello, everyone! How's your three-day weekend going, for those who are living within the US? Recently, Sunset nominated me to do
The Wisteria Writer's Tag
, which is perfect timing, considering that I am now trying to make it a goal for me to post one writing post every month. Thank you so much for nominating me. Plus, there's some down time at a small gathering that my family is hosting, although my brother just came into my room and asked me, "Why are you introverting right now?"
If he only understood the negative, depleting energy toll that such gatherings can take on me. There are only two social events that can energize me, but their excessively rare.
// LE RULES
1. Thank the blogger who nominated you.
2. Answer the ten questions
3. Write ten questions of your own.
4. Nominate other people for the
// What's one thing you struggle to write the most? (Romance scenes, battles, etc.)
Battle scenes are such a struggle for me because they're something that I haven't done much of-- most battles scenes are used to forward a plot, and they only make up a small percentage of the novel. Usually, if I need to write a battle scene, I tend to enact it out, which does raise a few eyebrows in the house, but one, it's fun, and two, it helps the clarity of the moves when actually writing it down.
// Favorite character(s) from your current WIP?
WHY MUST YOU ASK ME THIS QUESTION? This is hard. I love my four protagonists! Sigh. I love all four of them for different reasons, but the main thing I love about each of them is their character arc development. All four children each undergo something different, and they grow in different ways that they each all clash with each other, but still carry a mutual bond and understanding that allows them to respect each other's struggles. They each have their little quirks, as well: Jack has a ten-page fire extinguishing itinerary, Christina sprays color-dyed water onto frogs every morning, Sam is obsessed with iambic pentameter, and Daniella is not flexible.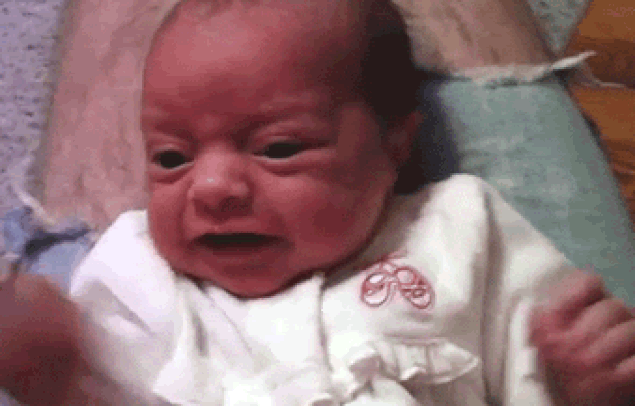 When you ask me choose favorites, I look like this baby.
// Why exactly did you begin writing?
When I was younger, probably ten years old, I used to not talk, at all. If you approached me with a question which I was required to answer I'd numbly stutter a response. Anything and everything else would receive an annoyed yet terrified glare. Before that shy phase, writing was something irregularly done outside of school. One day, in fifth grade, the entire class was in the computer lab, writing on a prompt on a computer program, because the school scored terribly within the writing sessions in the class. Meanwhile, I scored the highest possible grade on every one. It seemed like a fluke, but honestly, I had fun writing stories to this prompts, talking about how the characters had to sneak onto the cargo box of a train to outrun the impending storm. Soon, writing became something deeper, more personal, and that's how I continued writing to this day.
// AHHH! The library is on fire and there is (conveniently) only enough time to save three books. Which ones do you save and why?
My organization tools for writing are all in my arsenal! Seriously, I find some of the coolest notepads out there.
// If you are currently working on a WIP, give a brief synposis of it below.
A boy with fire. Lost enemies and parents. Shadows. Instability. Anger. Balance. That's all you're going to get, at the moment, unless you look at
the long post about my WIP here.
// Which time period do you prefer to write about?
Um... here's the thing: I hardly read any historical fiction, not because I dislike it, but because the novels will often be a hit and miss. I've mainly written contemporary novels (contemporary = present day) but honestly, last year I've been exposed to a lot of time periods from the various forms of media I've encounters: the 1700s (cough cough, "Ev'ryone give it up for America's favorite fighting Frenchman!") the Roaring 20s, and the Baby Boomer 50s, and these are interesting to me. I'd love to write about them! But, if you really know me, you would know that my favorite time periods would have to be the decades including the Great Depression and World War Two, because those have been my decade obsessions for a long time.
// First, second, or third person narrative?
Tricky! This answer all depends as to what the story best calls for. For my contemporary novels, I tend to write in first person, because my protagonists are within the natural world, our world, and the story would be more appropriate to view within the eyes of the protagonists. We (referring to the readers) now what an alarm clock is, how it sounds, how we feel, but there are millions of contemporaries out there, and personal character inflections are important to make the novel stand out within the theme sea of love, school, and kick-butt side characters.
90% of most romances in my novel look like this.
If the reader is being introduced to an unknown world different from what they're familiar with in their everyday life OR if the novel is told within the perspective of multiple characters, it becomes more efficient for me to write in third person (omniscient, usually). This is mainly to keep the various personalities of each character erect-- who wants to write a novel with several points-of-view chapters being relayed by seven different narrators? This is always where I see personal character inflections either distracting certain observations or being too stale to distinguish one character from the other. We just need a reliable narrator.
// What's the best piece of writing advice you've ever received?
It's a tie between, "Buy yourself the biggest possible frappucino once you finish your novel, because you and your brain will thoroughly need it," "Ignore your inner editor while writing your first draft," and, "Don't stop writing daily; writing is a muscle. You've got to train it."
// Is diversity an important thing in your books for you? Why? How diverse is your own writing?
Diversity is such an important thing in my novels, especially when people of color, such as myself, are often underrepresented in various forms of media. You don't see much Asians in literature! Some of my books call a great attention to their heritage, thus inflecting parts of their personality, while other books of mine do not have much emphasis on diversity not because I don't want to, but it's not entirely appropriate. For example, for my current novel, their racial background isn't that important because they travel within a fantasy world where labels such as Caucasian, African-American, Asian, Native, don't apply, and it is somewhat hinted that Caucasians are the majority in the children's quaint hometown.
However, in my current work in progress, the world also has areas rich in a mingling blend of various Eastern and Western countries, and I am earnestly trying so hard to accurately portray the best yet realistic parts of these cultures without having to demoting them to merely stereotypical countries. As I enter this umpteenth edit and rewrite, it's one of my main priorities to be able to mix this and create a fresh new blend, such as what I am doing with Germany and Japan, for example (their folklore and stories just mesh well, and DO NOT get me started on their food and how good it is).
// What genre do you prefer to write about?
Fantasy and contemporary are my main two that I usually write about, although I dabble in sci-fi.
1. Take your most despised store. Describe what it looks like and why you hate it. Now, imagine your protagonist and antagonist of your current WIP visiting the store for the first time, separately. How would they react, and what would they buy? ("Nothing," won't be an acceptable answer!)
2. Do you have quirky writing rituals you need to in order to begin writing, such as editing with the door closed and a purple pen, all while wearing mismatched fuzzy socks? If you do, describe them.
3. Which of your characters from your WIP embodies what your entire writing process resembles?*
4. List the top three writing conferences you'd want to visit.
5. If you had to collaborate with a published author, who would it be and what would you two write about?
6. Your sources of inspiration?
7. Quick! You're on a five minute break from editing-- but your first choice of food to snack on ran out! Name your other two brain foods.
8. What's a writing-related question that bothers you when people ask?
9. List two songs that would describe both the good and bad sides of your deuteragonist.
10. Up to this point, what is your current word count for this post?
*Example: if C.S. Lewis's entire writing process was very sneaky, the character closely relating to his writing style would be Edmund.
// TAG! YOU'RE IT! I nominate: